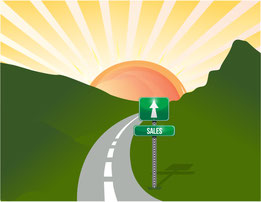 Many of my clients engage with their audience through content marketing (blogging, email marketing, social media etc.). As I was describing this to a business associate, they asked "How are sales generated from this type of effort?"
Often someone will read a blog or a post and reach out to the author or company about working with them. But that doesn't mean that the sale is closed. It's up to sales to close the deal. The purpose of these and other marketing activities is to pave the way for sales. Marketing activities are designed to inform, increase visibility, and nurture them so they are open to buying when approached by sales.
Here's what you don't want to happen. A salesperson engages with a prospect and the prospect says, "I don't know your company," "I'm not familiar with your company's products," or "What is it you want to sell me?"
With the right marketing plan in place, a prospect gains knowledge about the company and what they have to offer. When considering the path that needs to be laid, consider a prospect's journey particular for your business that takes them on the road to a purchase. In some form each journey encompasses awareness, consideration, and decision.
Providing content at each stage of the journey involves using appropriate forms of marketing and making use of each at the different stages. For example, to attract new prospects, it would be helpful to use blogging, search engine marketing, and social media marketing to gain attention. To keep them engaged, encourage prospects to sign up for company emails and continually remarket your products. Consistency, uniqueness, and timing are key.
Marketing is the amalgamation of all activities that set the stage for sales and the transaction itself. It is the marketer who plays a big role in establishing the brand and maintaining its reputation in the eyes of others. Marketers engage customers and clients (prospective and current), raising the profile of a brand so that it attracts the "right" people — ultimately to make a purchase and enabling a higher and faster conversion rate.
Need help figuring out the marketing activity you need that lays a path to sales? Give us a call.