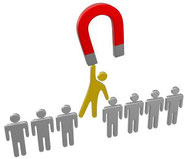 The job market is in tremendous flux right now. The latest US Pulse Survey found that 65% of employees are looking for a new job. Among executives, 88% are seeing higher turnover than normal. 
Companies predominantly focus their marketing strategies on attracting customers. With so many people looking for new job opportunities and so many businesses vying for the right people, it's critical to market to potential candidates as well. Shore up marketing strategies to generate interest in your company and make it easier to attract candidates that are a good fit.
Build a solid brand. One way to stand out from the countless businesses vying for the same talent pools is to turn your company into a recognizable and memorable brand. Use targeted marketing strategies most appropriate for your industry to raise awareness and convey a positive image.
Polish your website. A website is the first access that a potential candidate uses to investigate a potential employer. Make sure it is user-friendly and complete, so it is easy to find the information they are looking for quickly.
Maintain your public image. Couple social media and blogs with a website that details products and services offered as well as the company culture. Maintaining public profiles that accurately reflect what your company stands for will make a lasting impression on a job seeker.
Express your company culture. Include content on your website dedicated to employees and behind-the-scenes photos. Leverage social media to share these images and emphasize appreciation of the team.
Stand out from the competition. Distinguishing your competition is essential for business in general but also for attracting great candidates. Incorporate features that are appealing to candidates such as employee benefits, advancement opportunities, and training programs.
Use inbound marketing. By sharing high quality content and targeting relevant keywords, potential candidates will be attracted, engaged, and delighted.
Create content for applicants. Content marketing strategy is a major indicator of your company's trustworthiness. Use blog posts to emphasize the organization's experiences in the industry and to show goal achievement. Podcasts or videos focused on company values and mission express trustworthiness. Leverage PR to provide details about corporate charity initiatives, news, and company activities.
As the labor market tightens, organizations need to stand out from others, increase awareness about their company, and communicate company values. Then the right prospects will be attracted, ready to join the team.