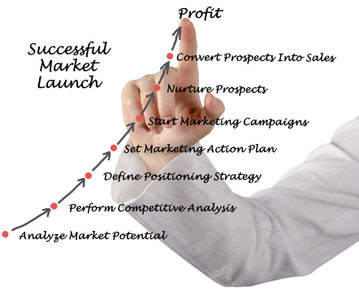 As the economy recovers from the pandemic, a surprising number of businesses are planning on entering new markets. In a survey of 1000 financial decision makers by the National Center for the Middle Market, 58% said they plan on entering new markets in the next 12 months. This can mean everything from introducing new products in existing markets to expanding sales into new geographic areas.
Any type of market expansion needs to have a marketing plan. Following particular steps will ensure a successful product launch or marketplace introduction.  
Set clear goals. Be specific about what you want to accomplish for the company and in the marketplace.
Conduct market research. Considerable market analysis is required before setting out on expansion. Undertake due diligence of the market to determine:
The level of brand awareness required to stimulate sal
The responsiveness of the target audience to new brands
Whether your business model can successfully serve the new markets
Define buyer personas. Detailing target audiences enables the development of tailored messaging that resonates more effectively with customers.
Construct the core value proposition. A clear value proposition for each buyer persona will boost conversion rates.
Improve the product. If needed, adapt the product to address customer needs uncovered through the process.
Develop pricing. Establish prices based on market research and understanding of the buyer and the value of the product to the buyer.
Develop the market entry strategy. This is the framework for how the business will interact with customers, deliver product value, achieve business goals. It includes brand messages, customer journey, content strategy, and the marketing and sales funnel.
Once your marketing plan is complete, and the financial analysis of costs is known, sales goals can be established taking into account market potential. Understand how much marketing is required, the resources needed to sell, and all other contributing costs.
Success with any new market entry requires a pragmatic approach and alignment between marketing and sales. Defining your market or product, performing market analysis and undertaking market research are among the steps needed for a successful marketing launch and sales effort. The alignment must be seamless and take the buyer on a continuous journey of steps from awareness to purchase. Then you are on your way to a successful launch.